One of the most frequent questions I receive in interviews is: Who designed your Spellbound covers? So I thought what better way to kick off the Spellbound Release Party than by bringing over the designer herself?
It gives me great pleasure to welcome Naj of Najla Qamber Designs.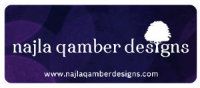 Thank you for joining us, Naj. Can you tell everyone a little bit about yourself?
I'm turning twenty-one this year. *woot woot* I was born in Bahrain (Middle East) to a funny bald Bahraini dad and a short and loud Filipino Mother (I love you mom and dad!). I've got two sisters and one little brother. I absolutely love books and I've made it a habit to read at least one hundred each year. (Yes, I know. I'm crazy.)
Because of my love for them, I started a book blog for my reviews and along with that, I contribute book reviews at a local newspaper. And in 2012, I managed to obtain my bachelor's degree in Business Informatics (so out of my passion). I'm currently a CEO in training for my dad's company which I will take over and put my design business right beside it. I've got a loving best friend/boyfriend who I am attached to for the past 2 years of friendship and 4 years of dating. And it is a pleasure to be here! *big hugs to Nikki*
How did you get started designing book covers?
I only started in the graphics design industry when I got an internship at a branding consultancy alongside talented senior creatives. They literally paved the road to my future in my teens and when I went back to school I started freelancing and learning more and more. I got into designing book covers when my first client, Maria Rachel Hooley asked me if she could buy my photo-manipulations for her book, December Rose. That was the beginning of many more book covers. Thanks Maria for helping me realize my calling!
Can you tell us about the design process, including how you work with authors to conceptualize their covers?
My goal as a cover designer is to provide the author with a book cover that relates to the contents as much as it is beautiful and attractive enough to make readers pick it up. So, what I do is ask for a short or long synopsis of the book and the gears in my head start clicking. And I ABSOLUTELY make sure the author loves the concept as much as I do before I start cracking on the cover.
Where do you get your inspiration from?
EVERYWHERE! Fashion ads, artwork online, other book covers, music, just about anything as long as it manages to capture my attention.
What is the most difficult or frustrating part of cover designing?
When my clients think they know better than I do and say it looks better this way when it absolutely does not! This is usually when I've got zero creative freedom, which by the way, is the worst thing you can do to ANY creative mind. Hence, there are many book covers I have made that never go on my portfolio because I absolutely hate it.
What's the most rewarding?
The most rewarding thing about this job is to see happy authors doing so well with the books I designed covers for.
What is your favorite cover you've designed and why?
The Watcher
by Lisa Voisin because it was one of the only covers that is really in my art style. If you noticed, all my work falls in different styles and genres that very few of them are actually in my very own art style.
What other design work do you do?
A lot of other designs! Bookmarks, banners, blog layouts, logos, stationery, other bookish swag and so much more!
Beside book covers, you also do book reviews. Can you tell us about your blog Unputdownable Books – how long have you been reviewing and why it's a passion of yours?
I've been reviewing books since December 2011. So that's about 2 years and a few months. Books are my first love, the passion that helps me escape when I was a kid and till today and having a book blog just helps me help others share love for books all over the world. :)
So I have to ask, do you decide what books to read based on their covers? Why or why not.
Actually! The book covers always attract me first. So I click on it and then I read the synopsis and decide whether or not to read it. Does that count as deciding to read books based on their covers? Lol! Why do I pick up books based on their cover? I'm human. I see a pretty thing, I pick it up. LOL.
Most kickass female character
Cat from The Night Huntress Series!
A chocolate called "Picadilly"
Favorite music to design to
Winner's Choice!
One lucky reader will get their choice of one ebook from Najla's portfolio. Pick from any of the ebooks pictured below or anywhere in this post. If you haven't heard,
Entangled
is now FREE wherever ebooks are sold! Party favor. ;)
a Rafflecopter giveaway
If you want to know more about the cover process, check out my guest post
How to Work With Your Cover Designer to Help Come up With a Killer Design at Sarcasm & Lemons.
And if you have a good time this week, follow my news and musings on Facebook and Twitter. I'm not going to bribe you with entries. ;)
Have fun!